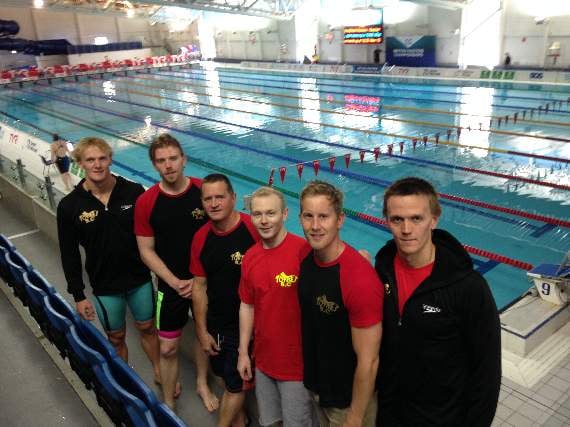 Totnes Swimming Club excelled at the masters championships at the Life Centre
()
Subscribe newsletter
Subscribe to our email and get updates right in your inbox.
Last weekend the British Masters Long Course Swimming Championships returned to Plymouth for the first time since 2013 and had a truly international feel to it.
Swimmers from all corners of the United Kingdom were joined at the Life Centre by competitors from Spain, the Netherlands, Turkey and even one from Australia.
The competition proved to be very successful for the nine members of Totnes Masters competing, coming home with no less than 30 medals and one new British record.
The British record came for the Men's 72+ 4x100IM team of Kalon Veale, Levin Veale, Daniel John and Neal Taylor.
After being denied the record three years ago due to a disqualification, the team were keen to get another chance and took it in style.
All four members swam outstanding legs to finish in 4.03.23, taking no less than 12 seconds off the old record. The same team also took victory in the 4x50IM relay in a time a time of 1.50.77, nearly a full five seconds ahead of the second-placed team from Preston.
Kalon Veale (25-29) dominated the backstroke events throughout the weekend, taking a clean sweep of the 50m, 100m and 200m events in times of 28.20, 59.80 and 2.13.38 respectively, the latter being a new personal best time.
He also picked up bronze in the 100m fly and a fourth in the 100m free.
Teammate Daniel John (30-34) took to the distance freestyle events, winning both the 400m and 1,500m then adding gold in the 200m free in a time of 2.04.42. He also won the 100m and 200m butterfly in times of 1.02.34 and 2.20.26 along with a fourth place finish in the 100m free.
Simon Veale (60-64) raced his way to six medals in his six events. There were golds in both the 400m and 800m freestyle with swims of 5.07.94 and 10.31.52, along with a gold in the 200m IM in 2.43.59. In a close race with Graeme Milne from Truro in the 50m fly, Simon was just touched into second by 0.2secs with a swim of 30.38. He also took bronze medals in the 200m free and 100m fly.
Neal Taylor (30-34) returned from a small period away from racing to add his experience to the relay team and also came home with individual silver medals in both the 100m freestyle and 200m IM in times of 56.31 and 2.27.31. Tom Hughes was also competing in the 30-34 age group and raced to a new personal best time in the 50m bk with a swim of 30.02 claiming silver and then added a bronze in the 50m br in a time of 32.53.
The youngest of the Veale trio, Levin, racing in the (18-24) arguably had the toughest competition in his breaststroke events with some very good young men to race. He swam to a new lifetime best and silver medal in the 100m breaststroke in 1.07.10 and matched this in the 50m fly with a swim of 26.21. He added silver in the 50m br and a fifth place in 50m free. Levin saved his best swim for last and stepped up for the relay posting a split of 1.05.34 on the breaststroke leg. Emma Challis made a solitary appearance in the 50m backstroke racing to a bronze medal in 34.19.
Two other Totnes members racing for Paignton on this occasion were mother and daughter Jane and Emma Bickley. Jane (50-54) was competing in her first national masters and took home a bronze in the 50m fly and finished seventh in the 50m free. Emma had a busier weekend claiming gold in the 100m back in a personal best of 1.07.99, silver in the 50m fly in 29.41 and two bronze medals in the 50m bk and 100m free in times of 31.91 and 1.01.20.
Next year's event has already been planned for Swansea and with the relay team moving into the 100+ age group there will be plenty of new records to be aiming for!
Comments
To leave a comment you need to create an account. |
All comments 0