Dart's masters take on the best in Europe
Thursday 9th August 2018 2:19 pm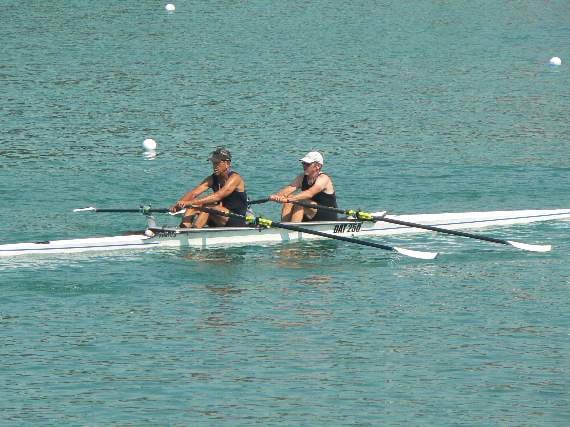 The mixed four with their medals
Subscribe newsletter
Subscribe to our email and get updates right in your inbox.
After a strenuous training programme throughout the winter, the Dart-Totnes rowing club sent eight fully prepared masters rowers, Alan Langmaid, Maurice Dunn, Nick Price, Grahame Stanley, Alan Pyne, John Harris, Pete Atkinson and Rod Stewart to compete in the four-day Euro Masters Regatta held over 1,000 metres on the Munich Olympic course at Oberscheissheim, Germany.
The team competed in multiple age categories in both rowing and sculling boat classes and where possible joined various other British and international oarsman to form composite crews.
With temperatures rarely going below 30 degrees, Dart Totnes came joint fourth in the medal table of clubs with a total of 18 medals from 13 wins. Some members of the team were asked to compete in as many as 13 races during the four days despite the extreme heat.
Leading the medal haul was 68-year-old Rod Stewart, a former international lightweight oarsman from Australia who, having recently joining Dart Totnes, won two singles, two doubles, one mixed quadruple sculls, one coxless four and three eights races, making a total of nine wins and contributing half the gold medals of the entire team.
Two memorable races were his sweep oared G and F category eight events. Stewart faced the favourites and formidable German team from the Berliner Ruder-Club by chance in each event and on both occasions the Germans got out to an early lead maintaining it throughout the race.
But with Stewart's crew raising the rate to an astonishing 42 strokes per minute in desperate sprints to the line, they overtook the Berliner crew in the last stroke, winning both races the same way in photo finishes.
The 64-year-old Pete Atkinson, Dart-Totnes's perennial paddler for the last few decades, was also in aggressive form, taking five wins and narrowly missing first place in at least three other races. He won one single, the E lightweight, with Maurice Dunn in third place in a tightly fought three-boat dash for the line.
That race was followed by Nick Price in the same category, who also held on to third place. Rough water prevented Atkinson from winning the lightweight F single as he was leading at 500 metres before the eventual winner inched ahead at the line.
Atkinson also won the two doubles with Stewart, one mixed quadruple sculls and one coxless four which was a relatively easy affair with Stewart and two other British rowing legends, Charles Parry and Tom Bishop.
They maintained their dominance having won this category at the World Masters 2017 in Bled, Slovenia, and the GB National Champion­ships earlier this year.
Atkinson and Stewart have joined together to form a competitive double scull partnership during the last 12 months and they have successfully maintained their unbeaten record by winning the double sculls in both F and G age category.
Their aim is to achieve a 2018 grand slam, having already won the double sculls at the GB National Champion­ships in Not­tingham, Henley Masters and now Euro Masters, leaving only the World Masters in Florida in September and the Head of the River Pairs in London in October.
The most satisfying medals won in the team's eyes were the two medals won by Grahame Stanley, who was asked to step into the Broxbourne Eight due to a late injury.
Grinning like a Cheshire cat, he duly went on to win both races he competed in and was heard afterwards saying "I've just had the ride of my life." His two medals were hugely satisfying for the team and collectively celebrated.
Other wins came from John Harris aged 71 in the 'H' eight and 67-year-old Alan Langmaid in his single-scull event.
The H category eight was a composite crew including Stewart and was stroked by Uli Schmied, a German with multiple gold medal wins in World and European Championships plus the Olympic Games.
The race started at an extraordinary pace with the Russian combination, the Danes and a German composite applying early pressure.
However, Schmied's experience in setting up a wonderful rhythm enabled the crew to hold it together, move through the field in the second half of the race and then continually draw away to win comfortably by over a length.
Langmaid won in the lightweight F single scull race by less than a second as the French sculler next to him made a late dash for the line in a scramble for victory. The win defied logic as Langmaid came second to last in the older G light weight single.
The final day's racing was designated for mixed racing, which was originally designed to encourage husband-and-wife teams to come together, but now are serious events fiercely contested.
The regatta finished on a high note for Dart-Totnes, with Atkinson and Stewart teaming up with Julia Wood from Exeter and Ursula Tanner from Ardingly to compete a mixed F quad and take gold.
There was excitement during the medal ceremony that followed as it was Julia and Ursula's first win and the last race at the regatta.
Comments
To leave a comment you need to create an account. |
All comments 0