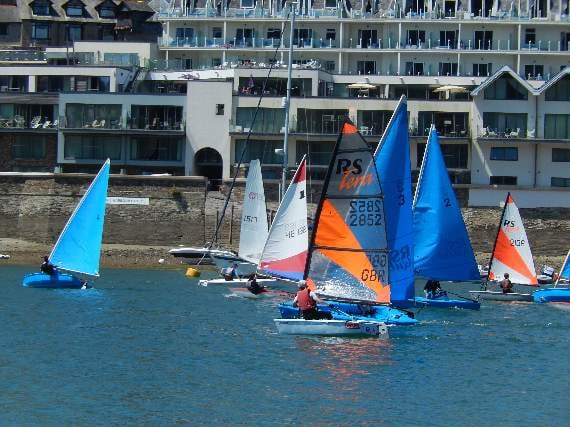 The Solo fleet enjoyed a good turnout
Subscribe newsletter
Subscribe to our email and get updates right in your inbox.
With Sharp's Doom Bar Merlin Rocket Week deemed a great success, club racing resumed at Salcombe Yacht Club last Saturday.
Sunny skies and a moderate sea breeze attracted plenty of competitors to the action and 60-plus boats took part in a good day's racing. Mindful of the spring low tide and a lack of wind in the upper ­reaches of the estuary, the race officer set a course to Blackstone and Saltstone, followed by another loop around Blackstone and Crossways.
The 11-strong Cadet fleet was first away and Ben Meek continued his recent unbeatable form to record another victory, with Edward Alexander second.
The Medium Handicap fleet is being swelled these days by a growing group of Laser 4.7s, most of them sailed by recent graduates from the Cadet fleet. Peter Cook and Janet Exelby remain tough to beat in their Firefly, but behind them Emily Janzen won the battle of the teenagers in her Laser 4.7.
The Fast Handicap fleet saw nine starters, with the Phantom of Chris Cleaves and the Aero of Dan Bridger enjoying a close battle on corrected time that was decided by a mere 20 seconds in favour of Cleaves.
The Solo fleet had its best turnout in some time, with 23 boats competing. A second gun at the start indicated that some boats were over the start line and Simon Dobson and Julian Meek returned to recross the line. Having done so, however, they found more breeze out on the Salcombe side and were able to cross ahead of the rest of the fleet, which had suffered from a lack of wind on the Portlemouth shore.
Dobson worked the wind shifts to round Blackstone with a lead he extended steadily throughout the race. Billy Jago, David Greening and Malcolm Mackley had a close-fought battle behind that was ­finally resolved in that order.
In the Yawl fleet, Geoff Gilson and Chris Spencer Chapman sailed to victory from Martin and Cheryl Beck, with Andrew Wood and Tim Petit third.
Cadets: 1. Tera Pro, Ben Meek; 2. Tera Sport, Edward Alexander.
Medium Handicap: 1. Firefly, Peter Cook and Janet Exelby; 2. Laser 4.7, Emily Janzen.
Fast Handicap: 1. Phantom, Chris Cleaves; 2. Aero, Dan Bridger; 3. Phantom, Alistair Morley.
Solos: 1. Simon Dobson; 2. Billy Jago; 3. David Greening.
Yawls: 1. Geoff Gilson and Chris Spencer Chapman; 2. Martin and Cheryl Beck; 3. Andrew Wood and Tim Petit.
Comments
To leave a comment you need to create an account. |
All comments 0