The Princess Royal helps celebrate 80 years of Citizens Advice
Wednesday 27th March 2019 9:28 am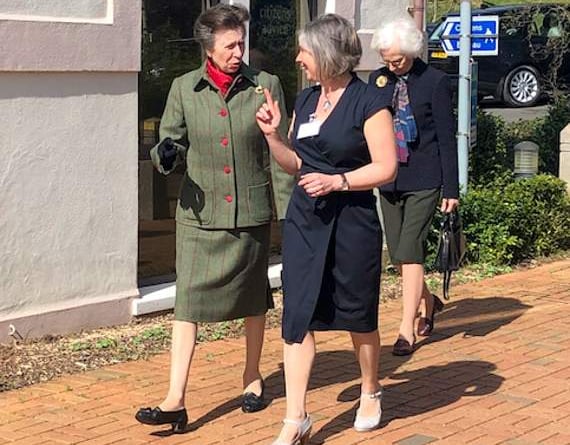 Janie Moor, CEO of Citizens Advice took Princess Anne on a tour of the Citizens Advice offices (Credit: Kristen Bounds)
Subscribe newsletter
Subscribe to our email and get updates right in your inbox.
The Princess Royal visited the Citizens Advice South Hams offices in celebration of its 80th anniversary and to honour three long serving staff.
Princess Anne toured the charity's Follaton House offices in Totnes with CEO Janie Moor on Monday where she talked to some of the volunteers and staff.
She then presented long service awards to three women for their outstanding contributions to the charity in front of many Citizens Advice staff and volunteers; various civic and town dignitaries from Totnes, Dartmouth, Ivybridge, Kingsbridge and Salcombe; and local organisations the charity works close with such as Dartmouth United Charities, the Tenancy Deposit Scheme Charitable Foundation, Totnes Rotary, Totnes Caring and Kingsbridge Food Bank.
The first was awarded to Vivienne Oxley, from Paignton, who started working for CA 20 years ago as a volunteer adviser and who is now a member of staff advising clients on debt and energy matters.
The second went to Anna Brownlow, from Dartmouth, who just retired as a trustee after 20 years of service.
And the third was awarded to Lesley Crooks, who has been looking after the finances of the charity for 25 years after joining as a volunteer in 1993.
During her quarter century at the charity, Lesley has worked for six different managers and, as head of accounts, helped to secure the charity's financial future when the four offices merged into one.
"Lesley is tenacious, hardworking and has a wicked sense of humour," Janie Moor told the princess, local dignitaries and charity's volunteers and staff as she presented Lesley with the award.
Lesley, who is from Dartington, came to the charity after a career in the private sector.
She said moving into the charity world was the best thing that happened in her working life and that she would recommend Citizens Advice to anybody.
"Citizens Advice gave me back my confidence and self-esteem," said Lesley, who joined after being made redundant and now does a mixture of paid and voluntary work.
She said: "The help and support Citizens Advice gives to people is so important. It's extraordinary. That's why I'm still here."
Lesley is also a dedicated member of the community, and has been a longstanding participant in Totnes's Elizabethan Market which runs every Tuesday in the summer.
Her homemade jam, marmalade and plants helped raised "well over £30,000" for Chernobyl Children's Lifeline which supports families affected by the aftermath of the 1986 nuclear accident.
The mother-of-two said: "My heart is with the children."
At a time of life when most of her peers are well into their retirement, Lesley remains as keen as ever to serve her community.
"I do love working here. I look forward to getting up and coming in," she says. "Citizens Advice feels like a family. You wouldn't ever want to let them down."
Janie Moor said: "The Princess is the patron of the National Association of Citizens Advice Bureaux and she chose our office to visit because of the hard work we do in the local community.
"It was lovely to be recognised, and I'd like to thank everyone who attended for supporting us. Our office is very busy and we are taking more and more calls and drop-ins from clients.
"If anyone finds they can't get through to us on the phone and they have access to a computer I'd like to signpost them to southhamscab.org.uk where you can type your problem into the search box and move around our advice website. If you can't find the answer to your problem then please ring or pop into our offices."
The Princess Royal's visit coincided with a series of events across the country to celebrate 80 years of Citizens Advice.
She also visited Paignton and Plymouth during her one-day visit to south Devon.
Comments
To leave a comment you need to create an account. |
All comments 0