Students protest climate inaction through Exeter
Monday 25th March 2019 11:13 am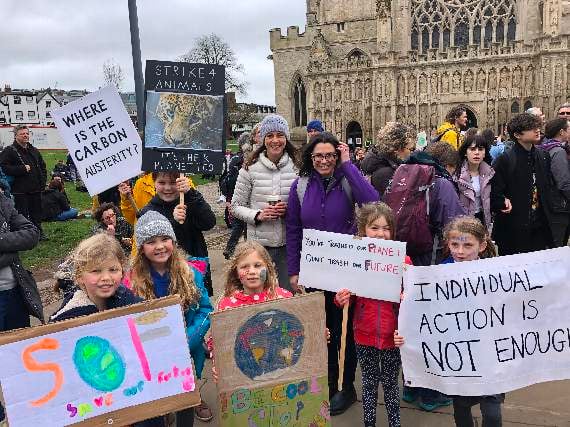 (children from left) Leila Arafa, Safiya Arafa, Felix de Rodzianko, Sofia Wellens, Lola Hodges and Ella Turns with mums Katya de Rodzianko, Caroline Hodges (left) and Anna Turns
Subscribe newsletter
Subscribe to our email and get updates right in your inbox.
Students and people from all corners of the South Hams contributed to the 1,000-plus people who attended the Youth 4 Climate Action strike on Friday, March 15.
The strike in Exeter – one of the most well-attended in the country – saw students skipping school to protest the Government's inaction on climate change.
An estimated 1.5m people protested globally, staging the biggest wave of climate strikes since protests began with 16-year-old Swedish student Greta Thunberg, who protested solo in front of the parliament buildings in Stockholm.
Many young people around the world feel that their governments are not doing enough to combat climate change and are calling on them to declare a climate crisis.
Students from Ivybridge Community College, King Edward VI Community College, Totnes Progressive School, Kingsbridge Community College, Salcombe Primary School, Thurlestone Primary School and South Devon Steiner School all confirmed their attendance.
Anthea Lawson of Totnes Area Extinction Rebellion claimed that 200 people from Totnes alone joined the march in Exeter.
Anna Turns and her seven-year-old daughter Ella were among those who made the trip from the South Hams, holding a sign that read "Individual action is not enough".
Ella, who attends Salcombe Primary School, said: "I liked going to the march and it was good to see some of my friends from Thurlestone there too. I think it's time the Government listens to young people. Climate change is really serious."
Her mum Anna said: "Ella and I were really pleased to be a part of Exeter's march, contributing to the amazing 1.5 million people globally who took part in the world's biggest-ever climate event.
"It's quite something to think this all started with one 16-year-old girl, and we felt huge solidarity with other young people in the world.
"We just hope our governments listen and take the urgent and comprehensive action that's needed."
Felix de Rodzianko, from Thurlestone, said he wanted to be there to add to the people trying to create change.Felix, who is 11-years-old, said: "If climate change gets out of control, animals, which are my favourite thing in the world, will start becoming extinct quite rapidly."Also it's my future and the Government isn't really doing anything about it even though countless people have tried to make them, so I'm just another person trying to make them do it."Felix was holding a sign that read, "Strike 4 animals, it's their planet too," with a photo of a leopard on it as his proud mum, Katya de Rodzianko stood behind him.
KCC Sixth Form student Tom Foley, who also attended the march, took photographs of the event.
Isabelle Spring, who is in Year 13 at ICC, has attended the past two strikes. She said: "It was very powerful to see that so many people were striking across the globe and the momentum that has grown for the Fridays for Future campaign.
"The strikes' atmospheres have been electric and I would strongly advise young people to take part in the next one on Friday, April 12, over the Easter holidays.
"For me, seeing so many young people coming together gives me hope that there's a solution to the climate change crisis – if we all choose to act."
Calypso Byng, from Totnes, was also at the march. She skipped her classes at Plymouth College of Art because she "feels very passionately about climate justice".
"It was amazing to see all the students and adults all getting involved," said Calypso. "The atmosphere was absolutely incredible.
"I thought the day was a success, but I still feel we're not being heard. We'll just have to keep striking until something changes. Part of me feels we should strike more than once a month for better impact – after all, time's running out."
Megan Barnett, also from Totnes, decided to forego her classes at Exeter College because she felt it was a good way to ensure her voice was heard.
"I'm sick of the Government and adults not taking the youth seriously and not listening to us," Megan said. "It's our future, so why shouldn't we care?"
Isadora Cate from Totnes attends South Dartmoor Community College. She said she made the decision to miss school because she wanted to stand up for her future and the future of the Earth, even if she loses her 100 per cent attendance or misses a lesson or two.
Isadora said: "I felt it was important to attend because this is the biggest issue we've ever faced; and it's not just political – this is an issue that will affect everyone everywhere.
"Yet the Government's negligence never ceases to amaze me – also that of the older generation. The older generation have known what would happen for years, yet they kept on polluting and ignoring. Even when it's announced that we have 12 years before climate change is irreversible they fail to seek action."
The strikers were made up of students as well as members of organisations including YouthStrike4Climate, UK Student Climate Network and the UK Youth Climate Coalition, among many others.
The strike saw students meet at Exeter University, moving on through Exeter College, Cathedral Green and eventually outside Exeter Civic Hall, where they handed a letter of protest to local councillors.
The next strike is planned for Friday, April 12.
Comments
To leave a comment you need to create an account. |
All comments 0