Students are gearing up for another climate strike this Friday
Tuesday 12th March 2019 11:23 am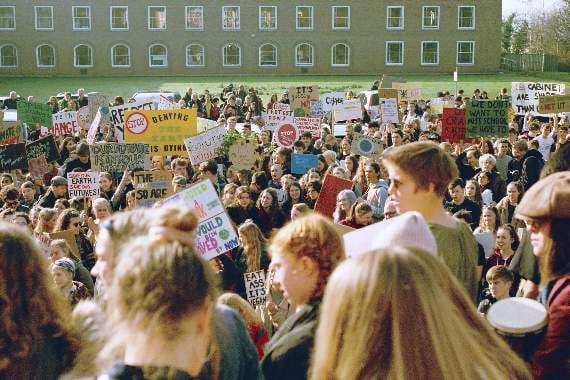 More than 100 Totnes students joined the protest at the county hall in Exeter (Credit: Piers Hammond)
Subscribe newsletter
Subscribe to our email and get updates right in your inbox.
Students and people from around the South Hams have been gearing up to participate in another climate strike.
After more than 700 students took the streets of Exeter a month ago to protest against governmental inaction on climate change, it is hoped that the turnout for the march this Friday, March 15 will prove to be even bigger.
Students from Ivybridge Community College, King Edward VI Community College, Totnes Progressive School, Kingsbridge Community College, Salcombe Primary School and South Devon Steiner School have all confirmed they will be attending.
Local mum Anna Turns and her seven-year-old daughter, Ella, will be among those making the trip up to Devon County Council's county hall to have their voices heard.
Anna, who has been authorised by Salcombe Primary School's headmaster to take Ella out of school, felt compelled to speak up about the lack of action.
Anna said: "Time is running out before climate change becomes irreversible and we can no longer slow it down, but governments are not doing anything about it.
"I also believe in the power of the youth voice - a child's protest is pure and honest and without ulterior motive - you can't really argue with that.
"Climate change isn't simply an environmental issue, it's socio-economic and political. I have also been so impressed by the global movement of youth strikes in the past year and believe that change is really possible.
"I couldn't just sit by and watch – I feel that this time I am part of the change whereas previously I maybe haven't been as engaged or as politically aware and not felt empowered or driven to stand up for what I believe in.
"I also feel that protests and marches have in the past seemed scary and confrontational to me but because this a child-led one I don't feel intimated by it."
Anna, who is a freelance environmental journalist has also been writing about climate change and has interviewed some of the young people taking action around the globe.
Anna said: "I have been so inspired by them - they speak so much sense and I want to show solidarity with them and teach my daughter that she does have a voice and it's important to stand up for what we believe in."
At the student-led climate strike last month, more than 100 students from Totnes helped to make the Exeter's Youth Strike 4 Climate protest one of the biggest in the whole of the UK, according to BBC news reports.
Students boycotted lessons to take their messages to parliamentary buildings across the country as part of a global day of action in protest.
After the protest, Devon County Councillors voted on a motion put forward by district councillor Jaqui Hodgson for Devon to declare a climate emergency.
South Hams students are planning on joining the march on Friday, March 15.
The strikers, made up of a young climate change activists and organisations including YouthStrike4Climate, UK Student Climate Network and the UK Youth Climate Coalition will be congregating at 11am at the Exeter University Forum, where they will then move through the Exeter College Here Road Campus.
The students behind Friday's action then plan to meet on Cathedral Green at around 12.30pm, with the aim of interacting with members of the public through speeches and singing.
Finally, they will be heading to Exeter City Council, arriving by about 1.40pm, where they plan to hand in a letter addressing their concerns and interview councillors following Devon County Council's recent motion to declare a climate emergency.
The action was inspired by 16-year-old Swedish student, Greta Thunberg, who began a solo Strike 4 Climate Action protest last autumn. Since then she has inspired students around the world to take action.
The students have four key demands:
1.) The government should declare a climate emergency
2.) It should inform the public about the seriousness of the situation
3.) The national curriculum should include the ecological crisis
4.) The age of voting should be lowered to 16 so younger people can be involved in decision-making about environmental issues
Downing Street criticised last month's disruption to lessons as being damaging for pupils.
Greta Thunberg tweeted: "British PM says that the children on school strike are wasting lesson time. That may well be the case. But then again, political leaders have wasted 30 years of inaction. And that is slightly worse."
To read more about what young people of the South Hams are doing to help the environment to go along with our environmental series launch, pick up a copy of Friday's paper.
Comments
To leave a comment you need to create an account. |
All comments 0