Campaigners in 'climate emergency' call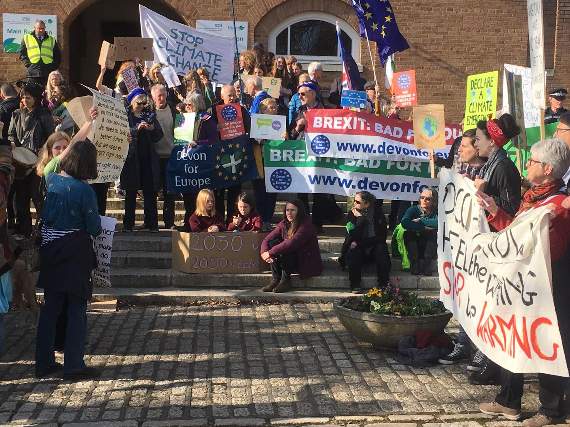 Campaigners outside County Hall in Exeter
Subscribe newsletter
Subscribe to our email and get updates right in your inbox.
Extinction Rebellion campaigners gave councillors a noisy and colourful reception ahead of a vote on whether Devon County Council declares a climate emergency.
Last November, Green councillor for Totnes and Dartington, Cllr Jacqi Hodgson, presented a 'climate emergency' motion to Devon County Council which called for Devon to be carbon neutral by 2030 and report within six months on what actions the Council will take to address the emergency.
In line with the council's procedures, the motion was referred to cabinet, and officers came back with a recommendation that councillors should accept a climate emergency motion, but with a carbon neutrality target of 2050.
The revised motion will now be voted on by full council today, but campaigners fear this will include a 2050 target and are demanding councillors vote for a 2030 pledge instead.
Campaigners made their feelings known outside County Hall ahead of the meeting.
Extinction Rebellion activist Caspar Hughes said: "We want our 20 years back! In particular, young people need to know their future will be made more secure, and that means urgent action on climate change and achieving carbon neutrality by 2030 at the latest.
"An emergency motion that kicks carbon neutrality back to 2050 is not worthy of the name. Devon cannot be left behind. We need action now."  
Cllr Hogdson said: "Unfortunately, a motion with a 2050 target won't take us to where we need to go. 31 years may seem like the right amount of time needed to reduce our emissions to carbon neutral, but the science is telling us we simply don't have that long. The stark reality is we have just 12 years before runaway climate change could overwhelm us so need to get to grips with and act on our climate emergency urgently. 
"This is not just a numbers game or simply more hot weather coming our way, the warming climate is already causing major extinctions to our wildlife and that loss of biodiversity threatens our food production and air quality. Major storms with flooding and unstable weather patterns are already claiming lives.  How much more evidence do we need before decision makers take action?"
It came just a week after hundreds of pupils from all across the county ditched the classroom to congregate at Devon County Hall in a display of 'active citizenship.
The campaigners aimed to raise public awareness that young people are deeply concerned about issues related to climate change.
Sophie Sleeman, a 17-year-old student at Exeter College, who helped organise the protest, said: "We hope that awareness will be raised amongst those in power that the youth of today want action on climate change. We demand that the government declares a state of climate emergency and communicates the severity of the ecological crisis to the general public.
"Often climate change is seen as just being for people who love trees and animals but this is our future. We are here because we have less than 12 years to sort this out and before the change is irreversible and we are just not seeing the action by our government. They are so behind the times and we really are scared.
"We want them to make more practical solutions to mitigate climate change and people are already suffering and starving and getting their homes wrecked by storms. It is an emergency and they need to do something about it.
"They need to be carbon neutral by 2030 as by the time we get to 2050 temperatures will have risen and won't stop rising. By 2050 it will be a spiral out of control and doing it by 2050 isn't good enough."
Devon County Council will vote on the 'climate emergency' motion later today.
Comments
To leave a comment you need to create an account. |
All comments 0